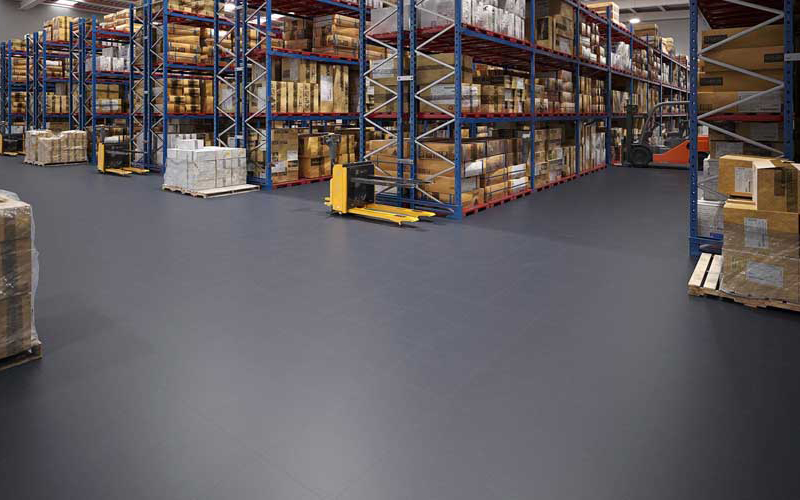 Why is Modulfix the ideal floor in a warehouse or a storage area?
Changing the floor of its facilities can be a puzzle for an industrial company.
The first of the problems is the lack of alternatives since normally only terrazzo or continuous floors (like epoxy resins or painted concrete) are valued.
Another problem is the time and the forms of application of these floors compared to Modulfix PVC tiles.
Both types of flooring (terrazzo or resin) have a very slow application (and drying) time and must be installed by experienced staff. Whereas the laying of Modulfix tiles is very quick and easy and in many cases they can be installed by the customer at his own pace. Our 2-people teams can install from 500 to 600sqm in one weekend.
The customer can work without stopping its activity (when the tiles are glued, you have to provide a time of 48 hours before moving with machines).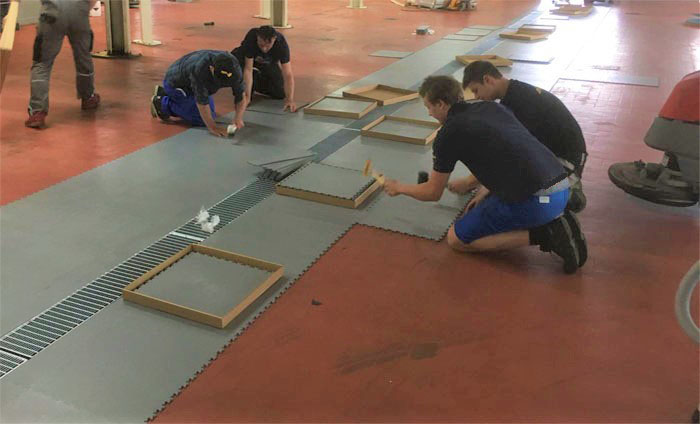 Besides, installing a terrazzo or a continuous floor often involves sanding or scratching the floor, which can cause a lot of dust. In the case of Modulfix industrial tiles, the preparation of the sub-floor is limited and its flexibility allows it to be adapted to the screed even though it is not in perfect condition.
Another reason that causes discontent among industrialists in relation to the above mentioned floors (terrazzo and painted floorings), is the certain ease with which they break due to dilations, greases or humidity.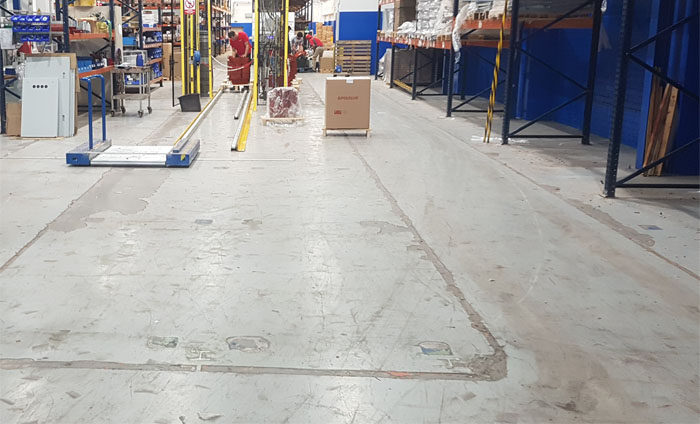 Example of painted floor in poor condition
Modulfix tiles do not break (they have very high Shore hardnesses and at the same time they are flexible) and are little affected by liquids or greases (being plastic).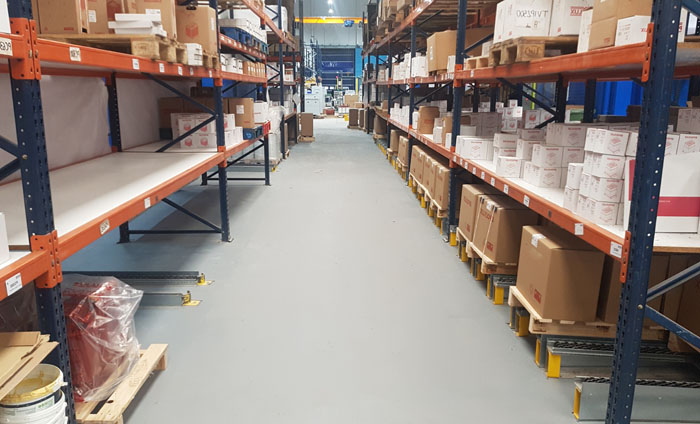 It is true that painted multi-layer floors have some positive aspects, especially a clean and continuous finish of the floor. However, once laid, Modulfix tiles give this same feeling since the joints are almost invisible.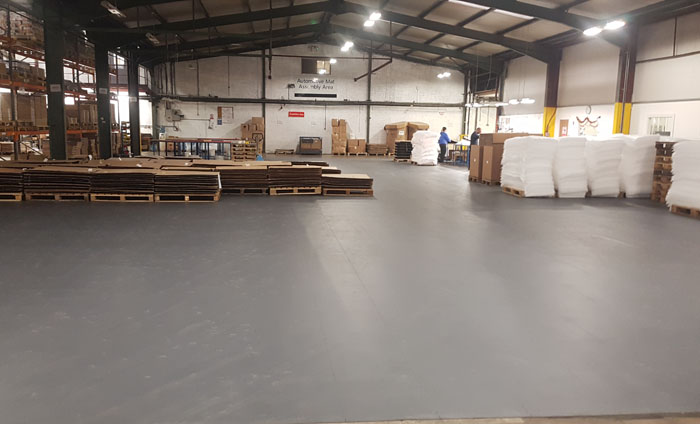 Another aspect to consider in a warehouse is security and again Modulfix tiles meet the highest criteria. First of all, they have a R10 resistance to slipping (according to DIN 51130). In addition, its wide range of colors allows to distinguish areas. Finally, thanks to our Moduprint technology, there is the possibility of printing any security pictogram.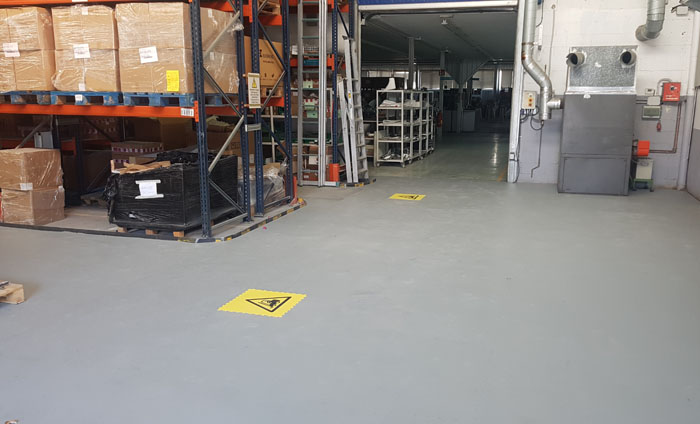 What type of Modulfix tiles should I install on the floor of my warehouse?
The main criteria to take into account are the weights handled around, the type of vehicles that circulate in the area (pallet trucks, stackers, electrical or manual system) and the type of wheels (rubber or nylon).
We have 3 ranges for the industry which are the Modulfix X9 Extreme (9mm, extra-hard PVC), the Modulfix X7 Heavy (7mm, extra-hard PVC) and the Modulfix X7 Solid (7mm).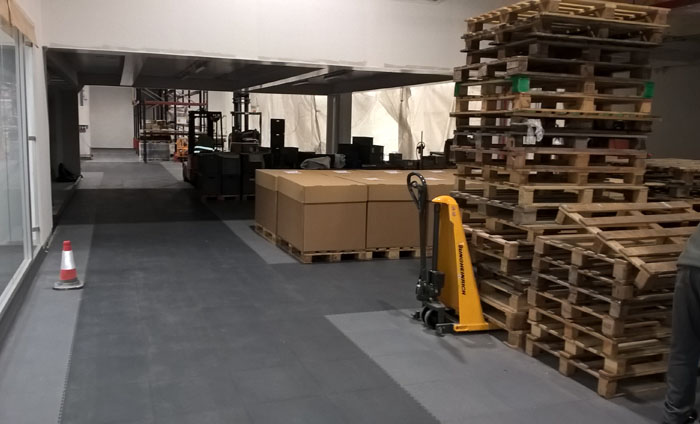 The cleaning of the Modulfix flooring in my industrial warehouse.
We recommend maintaining Modulfix tiles with a machine, neutral detergent and a non-abrasive brush. It is advisable to first remove the dust accumulated on the ground with a vacuum cleaner or broom.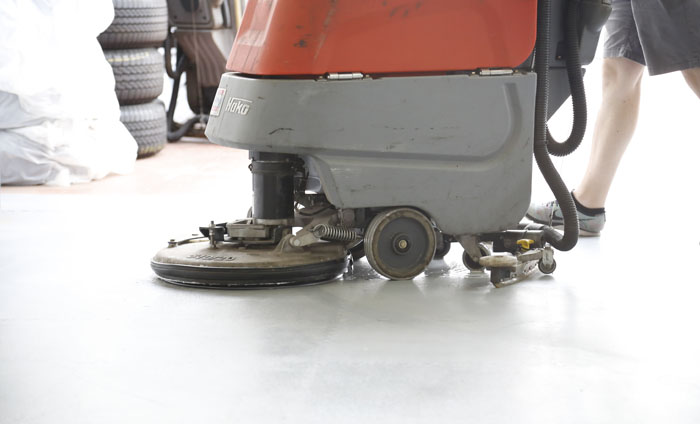 The feeling of users regarding cleaning with Modulfix tiles is an improvement after installation, especially compared to painted concrete that tends to leave dust constantly.
MORE INFORMATION ABOUT MODULFIX TILES
OTHER MODULFIX INDUSTRIAL PROJECTS:
BUS WORKSHOP CHOSES MODULFIX INDUSTRIAL TILES
MODULFIX: BEST OPTION FOR FACTORY FLOOR
COLD ROOM COVERED WITH MODULFIX TILES