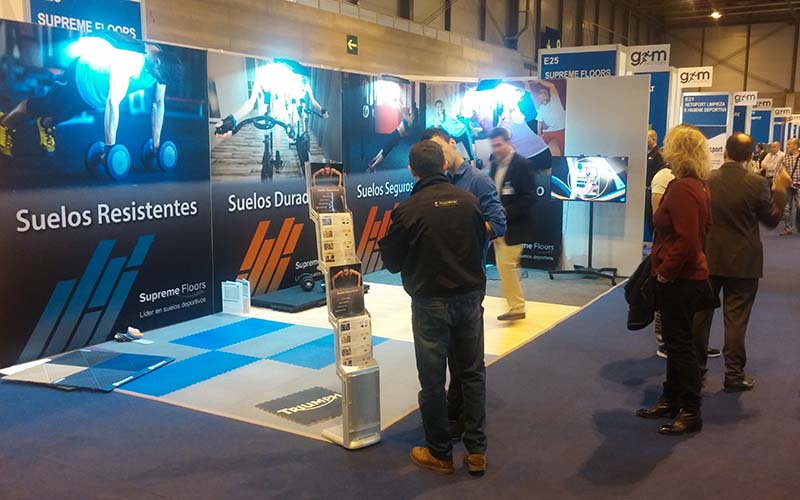 On the 13th and 14th of May, the Fitness and sport facilities fair Gymfactory took place on the fairground Juan Carlos I in Madrid.
During 2 days, more than 80 companies showed the most innovative products of the Fitness panorama.
And of course, Supreme Floors was present with its range of sports floorings.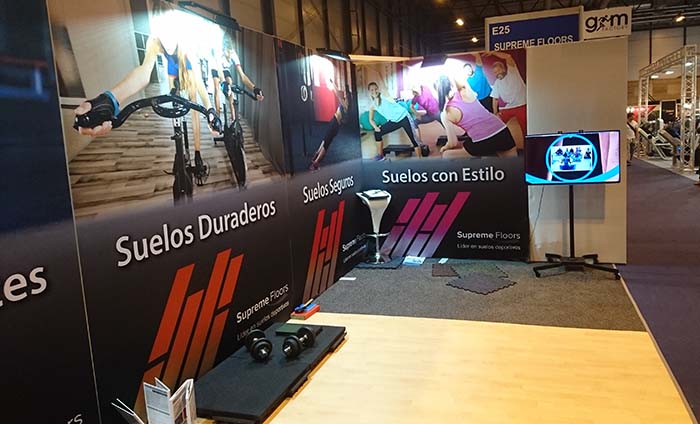 The stand was made with the 3 main products of Supreme Floors sports range. A good way to make advertising during this important event.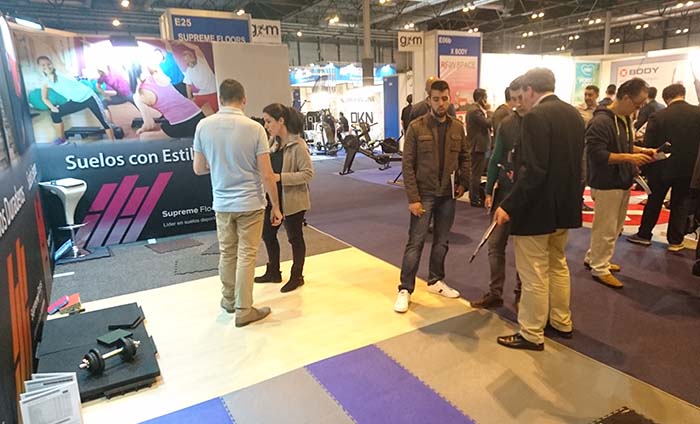 The rubber flooring Energy, available in tiles and rolls
This flooring is has a high resistance to impact and abrasion. It is produced in tiles of 50x50cm in 6mm and 8mm thickness and in rolls of 1,25x20m or 1,20x20m in 5mm and 6mm thickness.
Available colors: black with red, gray or blue specks. It is specially recommended for cross training zones, fitness, TRX and work out areas.
Sportex,vynil flooring
This sports flooring is available in rolls of 2 meters width and different lengths. And in different thicknesses, from 2mm to 8mm.
You can choose among 13 solid colors or 6 wood finishes. Sportex can be used in gymnasiums, fitness centers, spinning areas, stretching or multi-sport field.
More information about Sportex
Traficline, PVC tiles
These 50x50cm interlocking tiles are available in 5mm or 7mm thickness. The range includes 16 different solid colors.
It can be usewd in workout activities or spinning rooms. The installation is easy and fast.
More information about Traficline
Bergo, plastic tiles for outdoor and indoor
These tiles made in Sweden provide a good drainage in different areas, like swimming pools, changing rooms or spas.
The main goal of this flooring is to improve safety for users.
Size of the tile: 38x38cm, 22 colors available to choose and to combine.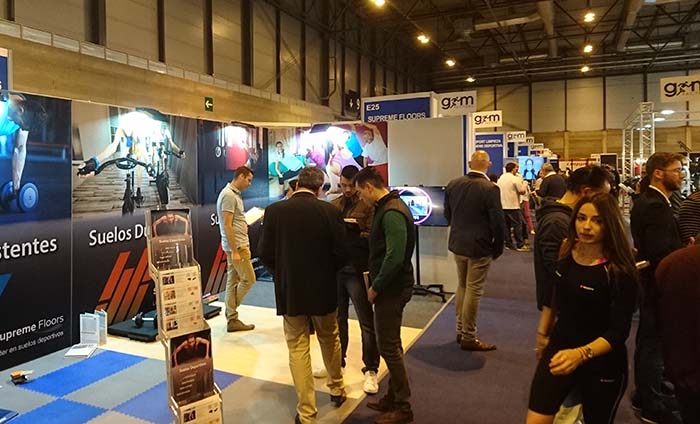 During these two days, a lot of people visited our stand. Some of them were old customers that came to say hello, others wanted to check out our new range of products.
It was great seeing you all!
More information about sports floorings